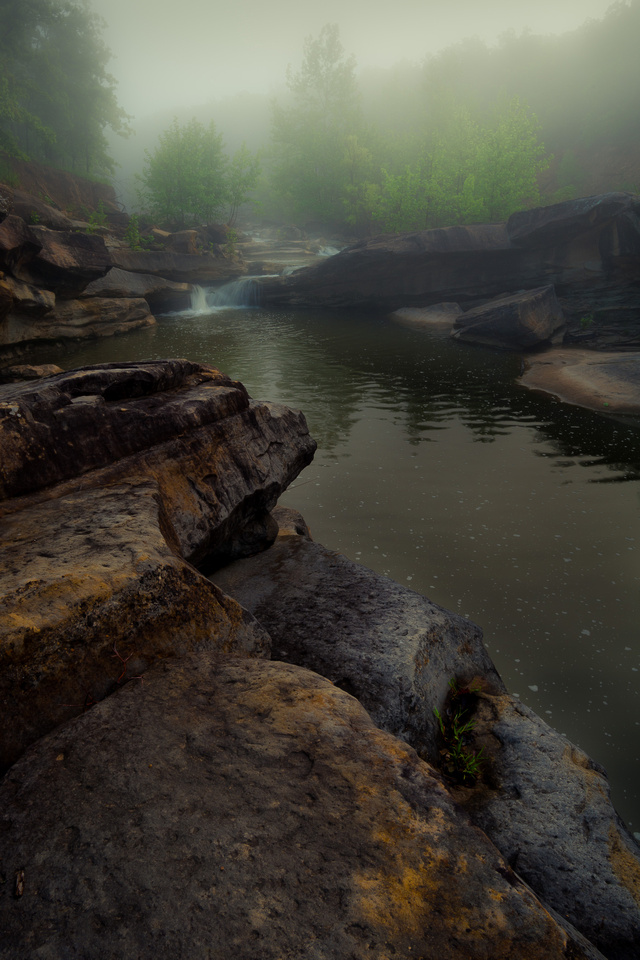 Northeastern Oklahoma is full of streams like this one located in the Middle Arkansas watershed. Limestone and sandstone dominate the mostly Pennsylvanian Era geology. The streams begin as small creeks and springs that move downhill with some eventually forming small streams.

The waters will often contain both brown and rainbow trout that enter these waters via dam overflow from nearby lakes. Some of the finest fly fishing for trout to be found in Oklahoma are located in these small streams.

On this morning I decided to take my fly rod and a box of flies along for no other reason than to get in some practice reading the ripples and pools. There was a great deal of fog down in the valley where this stream is located - ideal conditions to create some moody, atmospheric images. When I made this particular image, the sun was already up but still hidden behind the ridge to the right. The solar glow back-lit the fog, creating a wonderful mood without dominating the scene. Once the sun crested the ridge, the photography was done and I got down to some serious casting. I saw only a few small rainbows as I walked and plied my line along the rocky shoreline. I didn't catch any fish but there will always be another time.