hololightphototours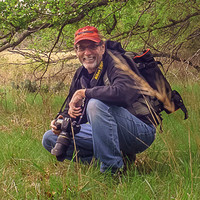 _DSC1527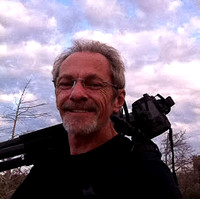 62f21053-edc0-4f87-9ad9-f82d4c1cbabc
In conjunction with internationally recognized landscape artists Tom Crews and Thomas Welborn, hololightphototours is pleased to announce their first workshop as a team. Our location will be the fabulous Wichita Mountains Wildlife Refuge in southwestern Oklahoma the last week of October. One of the nation's finest and most diverse wildlife refuge's, it was recently voted #1 in the country by readers of USA Today. Our country's very first wildlife refuge features ancient granite mountains, abundant wildlife (bison, elk, deer, prairie dogs, longhorn cattle, and more), old refuge structures built by the Civilian Conservation Corp (CCC) during the 1930's Great Depression, and 11 lakes scattered throughout providing us with an endless source of subject material. If we are lucky, the Fall foliage that contrasts beautifully with the surrounding landscape will be in full bloom as well. Come prepared for an experience you will never forget.
This workshop is designed with the intermediate photographer in mind. It is essential that each participant already know the basic controls and more of their their camera gear, and they should also be familiar with the basics in Adobe Lightroom or Camera RAW as these will be our primary tools for this workshop.
This will be a full outdoor experience with camping inside the refuge in order to maximize our time there, and will include some semi-strenuous hiking occasionally. Mornings and evenings will be spent shooting, while mid-day hours will be spent in processing and discussion under the protection of a Group Pavilion (w/electricity). We will talk quite a bit about creating art and furthering a personal artistic vision rather than just making photographs. Our days will be long and full with all that we wish to accomplish. This will be an intense workshop, not a vacation. Come to learn a lot and leave with a new sense of how you view your work going forward into the future.
For more details, call or email us for a course outline/itinerary and a list of camping gear you will need to bring.
Here is a sampling of what you can expect to experience in the refuge.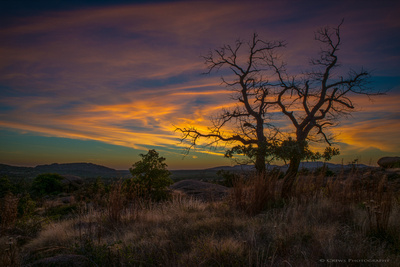 WichitaMountains-7-3
Warm & BlueA Fall evening on the spillway side of Quanah Parker Lake dam brought warm highlights up on top and cool blue shadows down inside of the canyon while the feathered sky was illuminated with the early signs of sunset.
WichitaMountains-4-2
WichitaMountains-8
Deep Blue & TurquoiseOn this morning the water and sky seemed to mirror an aqua color that was possibly associated with the early morning rains.
Window To The PastLooking in, looking out.
SingularityAn evening thunderstorm develops east of the refuge. Within an hour it had died out a sometimes typical scenario for mid-summer storms.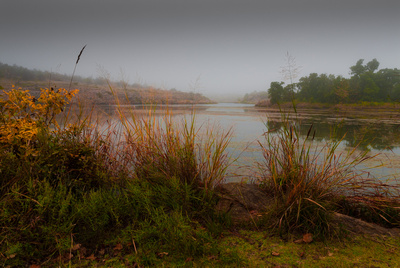 Lost LakeA foggy, dreary afternoon on Lost Lake in the Wichita's made for ideal photography conditions. Everything was wet from the morning fog and drizzle that had made driving conditions near hazardous at times, but in the end gave us some wonderful light.
WichitaMountains-5
Cost: $975.00 per participant excluding airfare or travel costs to the location
Deposit: $300.00
When: October 25 through October 30, 2015
Includes: Transportation within the refuge for the duration, all meals (we will have our own cook on hand), bottled water, camp fees, and a lunch at the world famous Plantation House on our final day. If you are flying in, we can pick you up at the airport in either Oklahoma City or Lawton as long as you arrive early on Sunday, October 25.
Group Size: Limited to (6) to insure maximum interaction with tour leaders
If you are interested in joining this fantastic tour, contact us for further information. Thomas @ (580) 264-5042 or email at: thomaswelborn@holoceneimage.com or Tom @ (903) 820-9910 or email at: tcrews52@gmail.com